Today we have seen the visited place in Chennai. In the Chennai museums, temples, mosques, beach, beautiful garden, mountains are situated. Let's we have seen some places in Chennai in detail in this article.

Mahabalipuram is also known as seven pagodas and is a town in Chengalpattu district. It is an ancient historic town and a bustling seaport in the 1st millennium but now beachside tourism centre with a group of Hindu monument declared as UNESCO World Heritage site.

2. Connemara Public library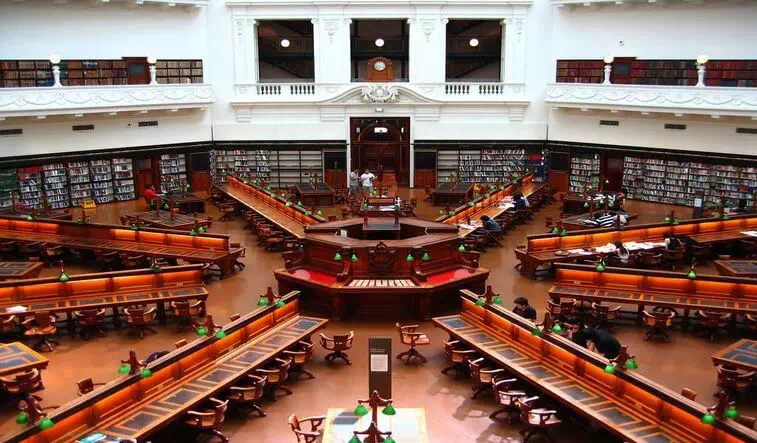 Connemara Public Library is a national depository library. It is established in 1890. In the library copy of all books, newspapers and periodically published in India is available and good number of publication and periodically of UN and its specialized organ and Asian development bank were also received.
3. Dakshinachitra Museum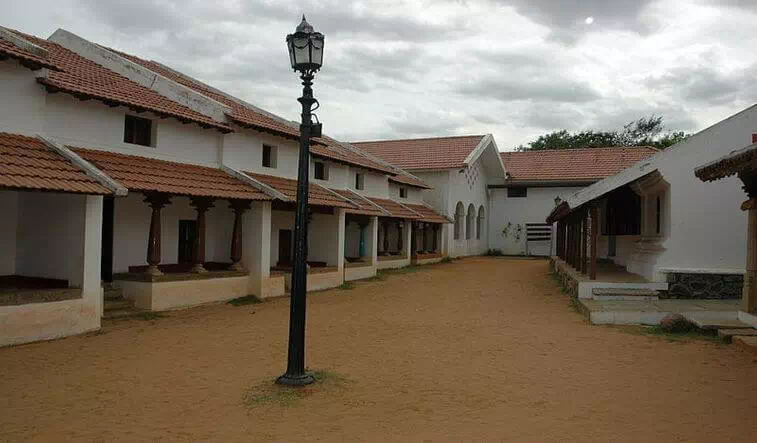 Dakshinachitra museum is a type of living history museum and it is dedicated to south India heritage and culture. It is opened to the public on 14 December 1996. The museum was managed by the Madras Craft Foundation. The Dakshinachitra museum is built on 10 acres of land and it is displayed depicting the life pattern of Indians in the state of south Indian.
4. Elliott's Beach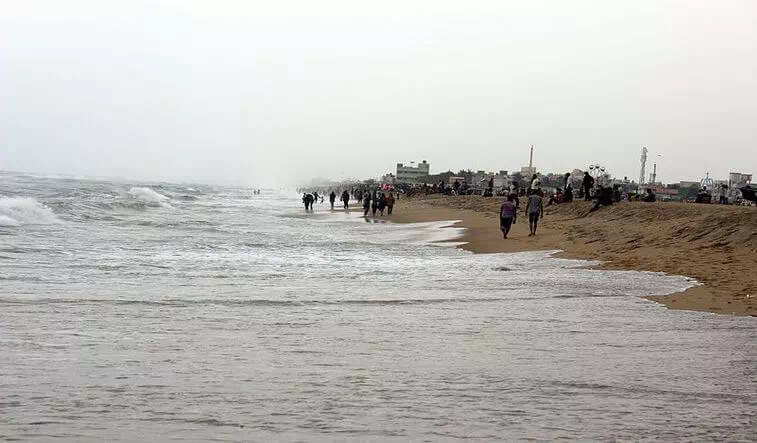 Ellicott Beach is located in the Besant Nagar in Chennai. It is forms the end point of the marina beach. There are many restaurants near the beach. It is the sandy type beach. Ellicott Beach is one of the cleanest beaches in Chennai and it is located towards the marina beach. It is extremely calm and tranquil place.

5. Express Avenue Mall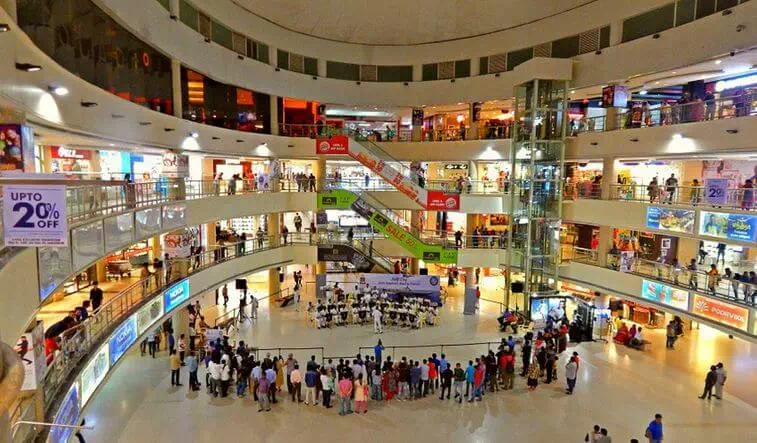 Express Avenue Mall is a shopping mall in white's road, Royapettah in Chennai. This mall is built at the cost of ₹ 7,500 million. The covetable area of mall is 1,750,000 square feet and has 10 anchor tenants and 150 vanilla tenants. It is opened in the 31 August 2010.
6. Government Museum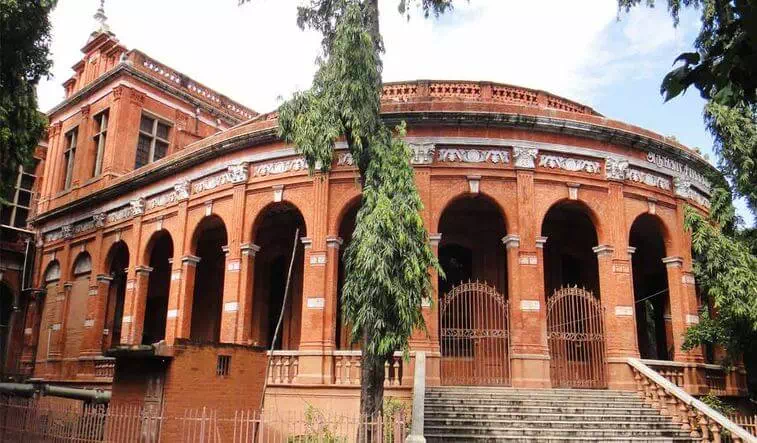 The Government Museum is a museum which is a type of human history and culture. It is located in the Exmore in Chennai. It is established in the year of 1851. It is the second oldest museum in India, first is India museum in Kolkata. Government museum is particularly rich in archaeology and numismatic collection and has the largest collection of Roman antiquities. It houses rare work of artists like Raja Ravi Varma.
7. Guindy National Park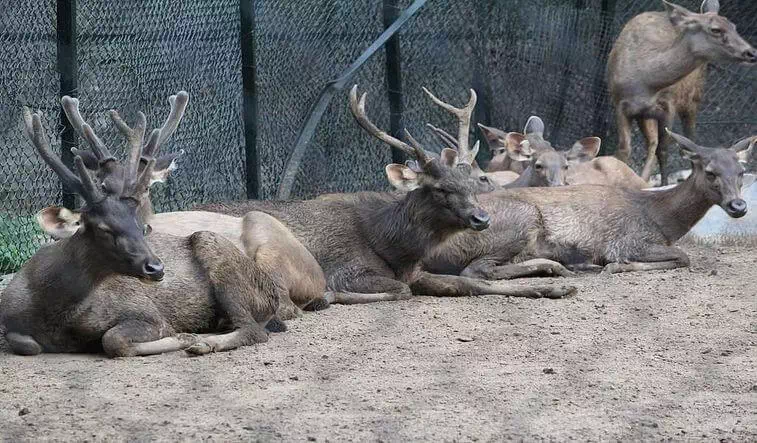 Guindy National Park is the 8th smallest park of India and located in Chennai. It is allocated area in 2.70 Kilometres Square. It is established in the year of 1977. 700,000 visitors visit in the year of 2006. National park is enclosing with beautiful forest, scrubland, lakes and streams. The park has a role in conservation and is home to 400 Blackbuck, 2000 spotted deer, 24 jacket, and a wide variety of snakes, tortoise and 130 species of birds.
8. Kapaleeswarar Temple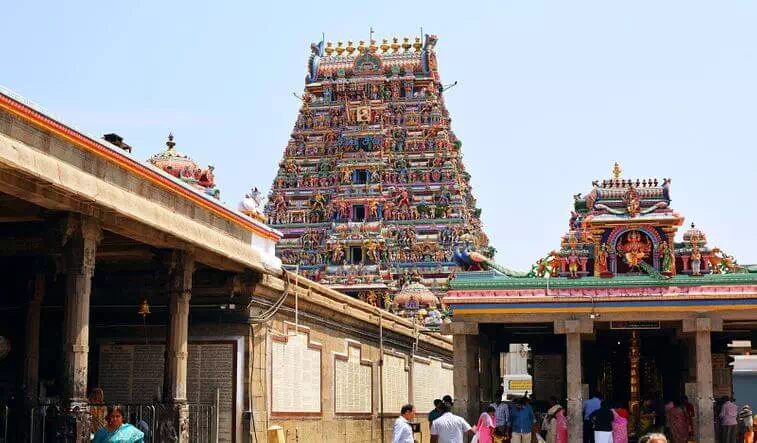 Kapaleeswarar Temple is a Hindu temple and located in the Mylapore in Chennai. It is dedicated to lord Shiva and the form of Shiva's consort Parvati. This temple is built around 7th century CE in Dravidian architecture.
9. Kolli Hills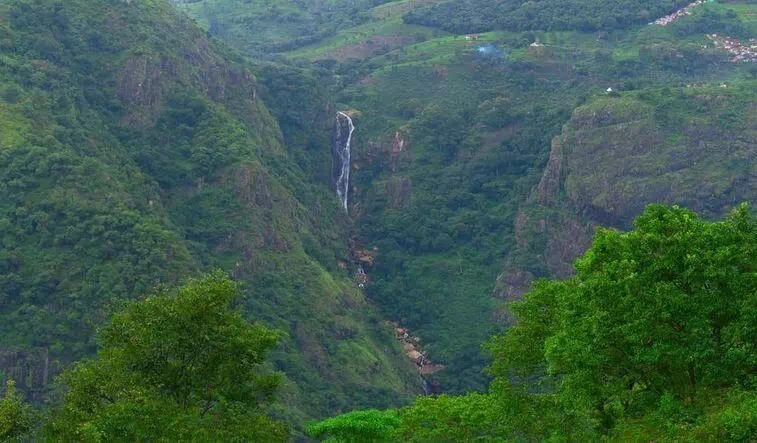 Kolli Hills is a small mountain range located in the central Tamil nadu. It is spread over the Namakkal district of India. Kolli Mountain rise to 1300 meter in height and cover approximately 280 kilometres square.

10. Marina Beach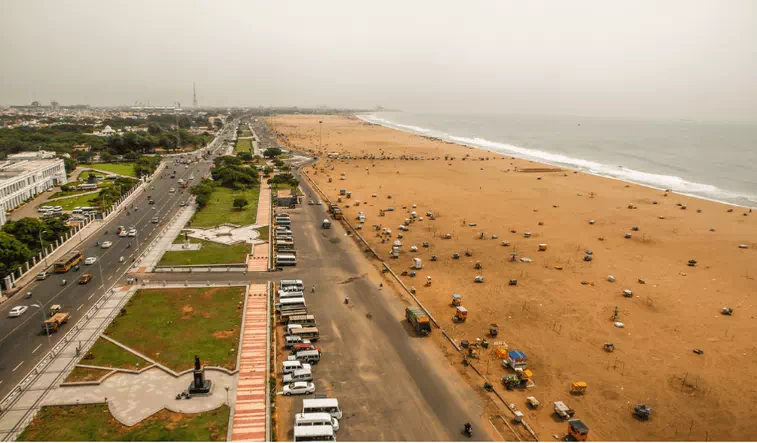 Marina Beach is an urban beach in Chennai. It is the longest natural beach in the country. Bathing in the beach is prohibited because it is so dangerous, and it is the most crowded beach. More than 30,000 visitors visit in the day during weekdays. Total length of the beach is 13 Kilometres. Best time to visit this beach is November to March.
11. MGM Dizzee World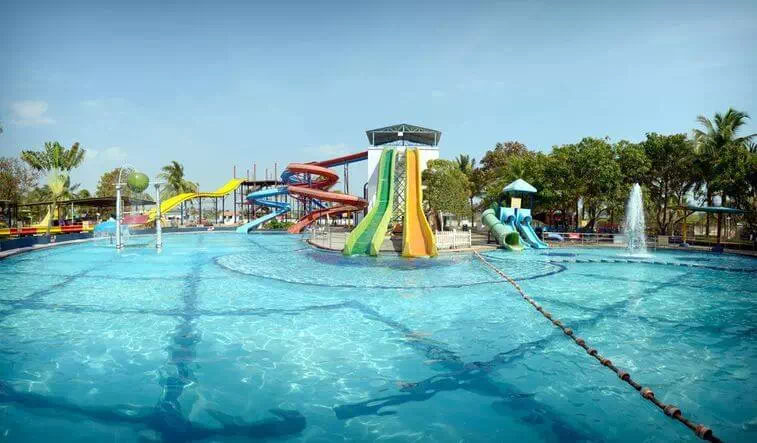 MGM Dizzee world is one of the types of theme park which is located in Chennai and it is located in East coast road. In this park log flume, Ferris wheel, spider spin, roller coaster, the special season show is available. This park is owned by MGM group of companies.
12. Mylapore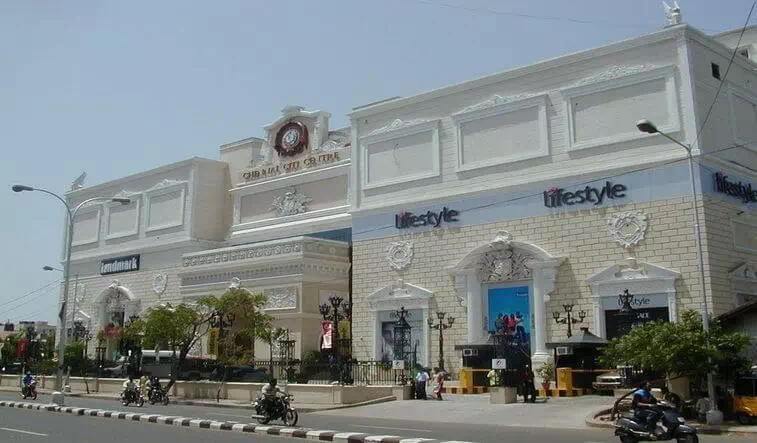 Mylapore is a neighbourhood in the central part of the city of Chennai and it is the oldest residential part of the city. It is also known as Thirumayilai. Mylapore is known for its tree lined Avenue, katcheri season, kapaleeshwar temple and Ramakrishna.
13. Semmozhi Poonga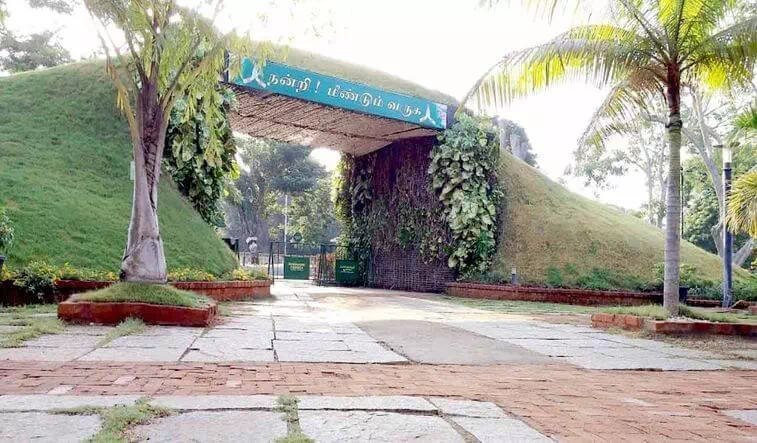 Semmozhi Poonga is a type of botanical garden in the Chennai. It is set up jointly by the horticulture and agriculture engineering department of the government of Tamil Nadu. The garden was open on 24 November 2010 by chief minister Dr. M. Karunandh. Semmozhi Poonga garden was built in the cost of 80 million.

14. Thousands Light Mosque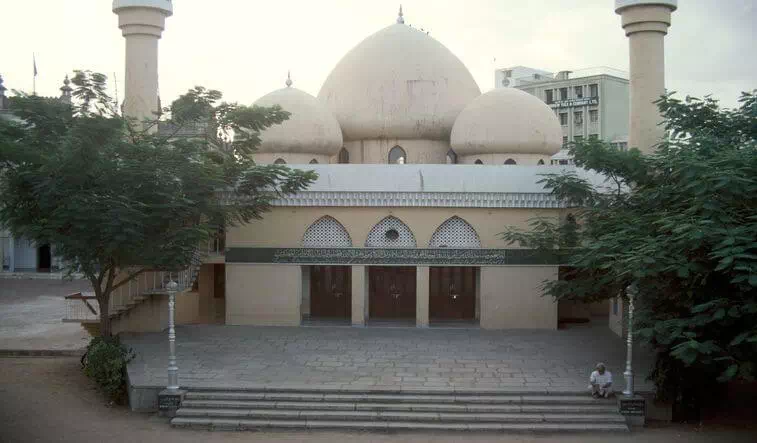 The thousands light mosque is located in Anna Salai in Chennai. It is the largest mosque in the country and it is the revered place of worship for Muslims. Thousands light mosque was built by Nawab Umdat – ul – Umrah in 1810. 1000 lamps needed to be put in order to illuminate the assembly hall form this, its name is derived.

In the mosque, with multi Dom's and spearing minarets and the height of minarets is around 64 feet above the ground. Other mosque was added in 1981 with two tall minarets and five inward curves Dom's.
15. Valluvar Kottam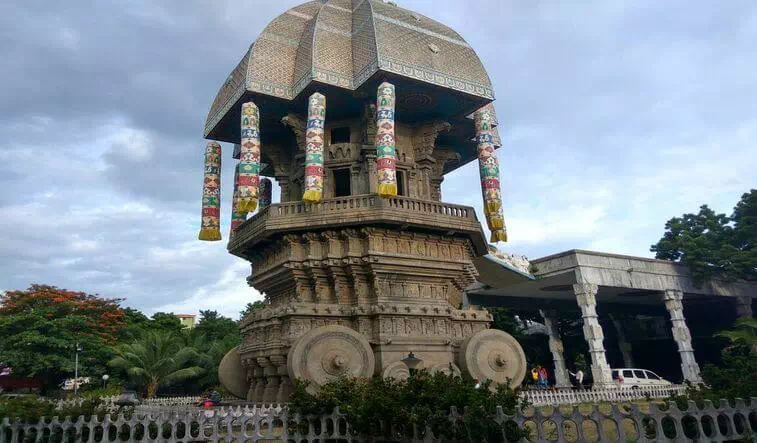 Valluvar Kottam is a monument in Chennai and it is dedicated to the classical Tamil poet philosopher valluvar. Its height is 39 meter and it was completed in 1976. The monument consists of a decorative arch and an auditorium that can accommodate around 3,500 people. The four giant sizes wheeled of the chariot with 11 feet in diameter and 2 feet in thickness.

Thank you for reading this article! Please share it and read more on The Best Places To Visit In Bangalore in the next posts.

##txtlinkaffiliateads ##imagelinkaffiliateads