Today we have talk about Horsley Hill. Horsley Hill is a range of hills in Madanapalle taluka of Chittoor District in Andhra Pradesh. Horsley Hill is about a mile from Madanapalle town. The local name of this place is hill was Uenugu Mallama. Its elevation point is 1,290 meter. In contrast to the dry and hot surrounding with cooler climate, so it is made attractive as a hill station and a tourist spots.

1. Flora and fauna
- : The native vegetation of the area has been replaced in some parts with growths of eucalyptus and largest Banyan tree.

- : The area has more wildlife includes sambar deer, wild boar and sloth bear. More than 133 species of birds have been recorded from the area and include yellow throated bulbul. And another bird which is rare found in the surrounding region is black eagle and white rumped Shama.

2. Temperature
- : The minimum temperature of Horsley Hill is 15 °C and the maximum temperature is 30 °C.

- : This hill station is charm and so tiny and secluded. Local people tell is around 20 year ago, hills was the quietest and most secluded place in the state and changed in the hills in recent years. Over the past decade Horsley Hill become a popular destination with travellers.

- : When we reach the Horsley hills, just before you reach their, there is a Gangotri pond and beside it sign signifying the presence of wildlife. Another place worth seeing in the Horsley Hill is the oldest building in this area is the forest bungalow, which is constructed for himself 1870 with floor tiles and a few décor items.

- : The closest town of Horsley Hill is Madanapalle, this place is associated with the philosopher Jiddu Krishnamurti, a small bust of Krishnamurti is the only tribute you will see near the forest bungalow.
2. Horsley Hills Overview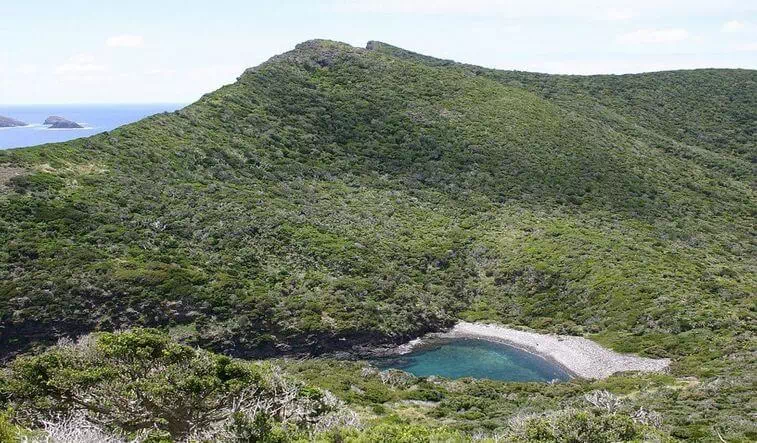 Horsley hills is a hill station that is the perfect amalgam of the charms of Andhra Pradesh and its beauty, hence it is called the Oozy of Andhra. In the Horsley hills adventure sports and activities such as shooting, trampoline, bow and arrow, water walking, wall climbing, rappelling, swimming and fish spa. We have seen many points about Horsley hills are following.

1. Sightseeing Around Horsley Hill
- : Horsley hills have quite beautiful sight to offer and in indention, its tranquil natural charms. The oldest eucalyptus tree which is believed to be around 148 years old and it is a land of Kalyani.

- : When you visit the Horsley hills, visit Thimmamma tree and it is spread over 8 acres area. The highest point of the hills is offered to see mesmerising view of the surroundings.

- : This hill is home to the number of animals such as deer and crocodile and the gurramkonda fort and governor house are the fascinating piece of history to be seen in the Horsley Hill.

2. Horsley Hills Weather
- : Horsley Hill is a hill station in Andhra Pradesh is pleasant and cold weather in the year. The month between Marchs to May are the best times to visit this hill station, the landscape during this time of the year can get arid and dry?

- : The vegetation changes colour from the dull brown to refreshing and delightful green and the rainfall is moderate to high and the winter also present an excellent opportunity to winter and experience the chill of the hills.

3. Places to Visit
On the part of the Eastern Ghats, the regions are believed to be one of the oldest in geology existence. Believe that the name of the Horsley Hill is to be come from the horse, once a horse that guarded the Gurramkonda fort situated nearby with such ferocity that as long as it remained there, no one dared to attack the fort, the little hills is near the fort , hence the name of Horsley Hill came to be.

4. Accommodation At Horsley Hills
The hills station is a central around the Haritha hill resort. It is maintained by Andhra Pradesh tourism Development Corporation. And another private resort are available in these places such as Holiday home castle wind, windfall Horsley Hill, wild wings and Horsley Hill holiday. You can get a good chance in the private hotels but it make best when we deal in advance.

5. Activities At Horsley Hill
Take a package tour and will be more convenient for you to plan your journey and necessary arrangements. There are no restaurants beside the ones in the resort. However, a couple of shops on the way sell ready to eat snakes.

6. History of Horsley Hill
- : The history of Horsley Hill is connected to an enigmatic story. It is said that the name of the Horsley Hill is to be come from the horse, once a horse that guarded the Gurramkonda fort situated nearby with such ferocity that as long as it remained there, no one dared to attack the fort, the little hills is near the fort , hence the name of Horsley Hill came to be.

- : Some other believed that the name after the British general with the same name of bungalow who built here.

7. Sights In Horsley Hills
- : As you drive to Horsley hills and beautiful flowers. You will see many monkeys on the way, among them someone is different looking from another. The resort is the centre of the rest hill surrounding it, hills look like pretty.

- : There are clean and green resort is the focal point of the hill station. There are facilities of two small holiday room rentals near it but with best limited room and food arrangements.

- : One of the best in the Horsley hills is it is the environment centre. You can exit the resort from the back gate. This is right across the road; there is a lovely pink cascade of flowers. Right side of the resort gate, you will not come without getting the amazing photography.

- : There is a small zoo with entrance fee of INR 10 per adult, has some little deer, crocodile, emus, peacocks and various birds. In this park not allow to plastic bottles or plastic packs.

- : You have seen British bungalow in this park and you have to go past it to reach a viewpoint. The bungalow is in decent shape. Right next to the bungalow is a lovely point to see in Horsley Hill is yellow blossom merging with the fresh green hills background.

- : Near the bungalow, there is a nature centre; you pass by the crocodile centre. Near the nature centre, a small little building behind the collector bungalow, it is a rocky hill; it is an easy to climb for most people.

- : The room in the bungalow are rented out as rooms by the resort, from these is you can see also a valley view point of Horsley Hill.

- : There is the fresh and calmness air to feel really refreshed and close to nature and you can also see beside the valley view point; there is also a sunset point in Horsley hills. All this viewpoint is walk able and near to each other, it is 500 meter from each other.

- : You can spend some time to sit there and gazing around the nature and see the bird, it is a great place to spot some unusual birds, so don't forget your binoculars.

- : In the hills station, there are adventure sports at the resort. The small adventure sports centre is freak-out for some wall climbing, trekking, zip-line, ATV trails, rappelling, earthquake and other rope activity.

- : In the Horsley hills, great for a day as q long picnic or a lovely one night stay. Entire hill station is just like a circular track, you will return back from where you start visiting; this is very fact that makes it an attractive and a great place to spend a day.

8. How To Reach Horsley Hills
- : Horsley Hill is 121 Kilometres away from the Chittoor, 227 Kilometres away from Chennai and 185 Kilometres away from Bangalore. Buses are run by the Andhra Pradesh state road Transport corporation or other by private taxis or buses you can reach here.

- : By the use of Airlines nearest airport is the Bangalore international airport and in rail, madanapalle station is just 26 Kilometres away from the Horsley, you can easily travel to Horsley hills.
3. Why to go Horsley Hill?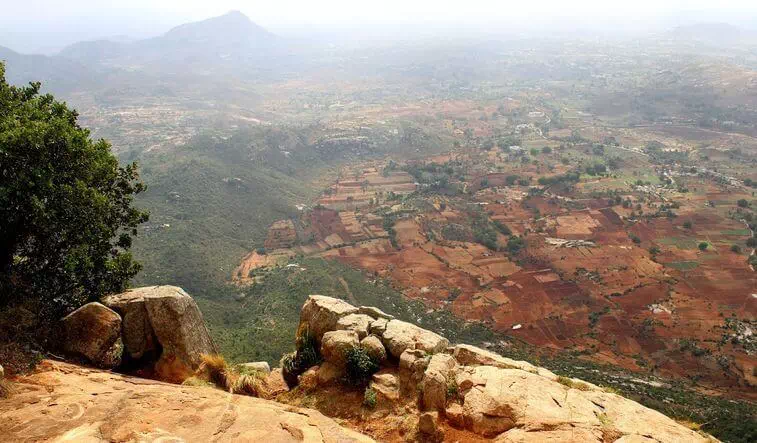 The number of tourists come to the Horsley hills is increased as compared to the local visitors, because the interests of youngsters to drive all the way from Bangalore to Horsley Hill by road trip.

If you are aware of popular Nandi hills, then Horsley hills won't be an unknown destination for you and another 2 hour of awesome bike ride plus refreshing and windy welcome to the top and the view point.

Quick Tips For Horsley Hill
- Horsley hills trip should be done with keeping in mind that it's just a detox from normal busy life and do not go on expectations that you will get tons of things to do.

- You have find many options of eating or even for snacks once you cross Karnataka border , therefore pack snacks in your trip.

- Do not go with the large bags and lots of big rucksack because it may increase unnecessary load for your bike trip.

- Please do not go with plastic bags or another who made from plastic, because the landscape is maintained quite nicely and we all should respect Mother Nature.

- Near the Horsley hills, there is 6 kilometres of small that road, which is start base of the hill to the us, so drive carefully and watch the other vehicles coming from the opposite side.

- Respect the culture and destination of the local community and the state culture.


Getting There
- : Drive from Bengaluru towards the Bangalore Tirupati highway then turn towards Chintamani by pass and reach through Madanapalle to Horsley hills and there is another route through gownipalli instead of Madanapalle.

- : Form the Hyderabad via Anantapur Tirupati highway you can reach some is around 540 kilometres away. The airports to this place are Bangalore and Tirupati both around 150 – 160 kilometres away and there are regular buses from Tirupati and Madanapalle to Horsley hills.
4. Top Tourist Places to Visit in Horsley Hills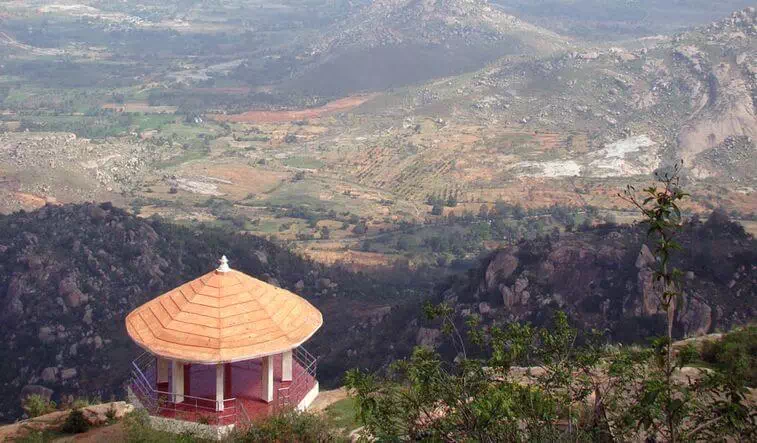 Here, we have seen the top 11 places to visit in Horsley hills and also see their distance, trip duration and other points about the place of Horsley hills.

1. Gali Bandalu / Wind Rocks
- : Gali Bandalu is a distance of 300 meter from the Horsley hills bus stand, it is one of the best places to visit in the Horsley hills. Trip duration of Gali Bandalu in a Horsley hills is 1 hour.

- : You can walk on the entire Rock hill. This place is one of the prime places to visit in Horsley hills. We enjoy heavy wind blows past you and feel cool.

- : You can see the sunrise and sunset point from the eastern and western point of this place, near the Gali Bandalu the microwave station is available, it is the one of oldest microwave station.

2. View Point
- : View point at a distance of 200 meter from the Horsley hills bus station. It is situated behind the governor bungalow. Trip duration of this viewPoint is 30 minutes.

- : The view of the endless, expanse, dotted by hills and forest is in itself worth the trip to the hill station, then you visit the Horsley hills don't miss this place, this point offer you to see great view of valley, hillocks and dense forest. In this viewpoint sun is magically seems to be going down in the valley.

3. Kaundinya Wildlife Sanctuary
- : Kaundinya Wildlife Sanctuary is a distance of 106 - : kilometres from Horsley hills, 78 kilometres from Madanapalle and 31 kilometres from Palamaner is away, the trip duration of this wildlife sanctuary half day or full day. We transported by bus or cab in this sanctuary.

- : Kaundinya Wildlife Sanctuary is well known sanctuary of an elephant reserve. It is located in Chittoor of Andhra Pradesh. This sanctuary was established in 1990, this sanctuary is only one sanctuary of elephant in Andhra Pradesh. 39 elephants are from Tamil nadu and Karnataka forests are migrated and move in this place.

- : Today 78 elephant and other animals like cheetal, four horned antelope, sambar, mouse deer, hare, wild boar, jungle cat, sloth bear, partner and jungle fowl are available.

- : Kaundinya Wildlife Sanctuary is rugged with high hills and deep valley and with two rivers Kaigal and Kaundinya are flow through the sanctuary. All areas is covered with southern tropical thorn type forest, there are different species of trees like albizia, Amara, ficus, tomentosa, ficus religious etc.

4. Mallamma Temple
- : Mallamma Temple is 350 meter away from the Horsley hills. Time duration to visit this temple is 30 minutes. This temple is an ancient temple of this place. It is located in the top place of the Horsley hills. This temple is dedicated to goddess Mallamma and it is well-known tourist place of Horsley Hill.

- : According to the legend, little girl who's name is Mallamma live on this hills and cured the people, one day suddenly she disappeared and the people started believing her to goddess and built the temple.

5. Kalyani – Eucalyptus Tree
- : The distance of Kalyani to Horsley hills bus station is 1 Kilometres. The trip duration of this place is 30 minutes. Kalyani is a 150 year old Eucalyptus tree. It is located inside Van Vihar Park which is centre of Horsley Hill and it is the prime place to visit in Horsley hills.

- : This is one of the trees in India with name; this tree is planted in Horsley hills in 1859 by Horsley. This tree height is 40 meter and its circumference is about 4.7 meter, this tree is hidden behind the forest bungalow and protected by other trees all around.

6. Horsley Hills Zoo
- : The distance of Horsley Hill zoo from Horsley Hill bus station is 1 Kilometres, the trip duration of Horsley hills zoo is 1 hour. This zoo is located inside the Van Vihar Park which is centre of Horsley Hills and it is opposite side to Haritha hotel. For kids, it is a popular zoo.

- : This is a relatively small zoo with few animals are protected wildlife are peacock, rabbits, pigeons, monkeys and crocodiles are included in the zoo. The park is spread with lush vegetation and tall eucalyptus trees and the weather cools in the park in the summer season.

7. Chennakesava Temple – Sompalle
- : The distance of Chennakesava Temple from the Horsley hills is 40 kilometres. This temple is located in Sompalle village and it is dedicated to lord Vishnu. It is maintained by the archaeological survey of India. Time duration of this trip is 3 hours.

- : This temple is a Hindu temple and built by a local Chieftain of the later cholas and then improved by vijayanagara king during the 16th century. This temple is very rich artistic sculpture with nicely carved pillars and many mural painting, this temple is featured of 52 feet high monolith pillars with wonderful carving throughout.

- : The inner part of this temple is very ornate and has preserved traces of painting depicting episodes from the Ramayana. The India precedes the main Vishnu shrine has an overhanging double curved cave with a brick and plaster parapet.

8. Gangotri Lake
- : The Gangotri Lake is 2.5 kilometres away from the Horsley hills. Gangotri Lake is a small lake located on Horsley hills in Madanapalle road. The trip duration of Gangotri Lake is 30 minutes to 1 hour.

- : Gangotri Lake is a one type of seasonal lake and filled with rainwater during the monsoon season. The lake is surrounded by a large vegetation and eucalyptus trees. This lake is dry in summer season. No other activities in this lake but tourists spend some time duration in this lake.

9. Kaigal Falls / Dumukurallu Waterfalls
- : Kaigal Falls is 2.5 kilometres away from the Kaigal village, 28 kilometres away from the Palamaner, and 92 kilometres away from the Horsley hills. Kaigal Falls is also known as Dumukurallu Waterfalls.

- : It is nice waterfalls and situated on the Palamaner – Kuppam Highway. Trip duration includes travel this fall is 4 to 6 hour. This waterfall is natural and water comes from this waterfall from a big rock at a height of hotels.

- : The name of this Kaigal Falls is Dumukurallu Waterfalls from prominence because of its sounds resembling the fall of stones from above.

10. Rishi Valley School
- : Rishi Valley School is 1ú kilometres distance from the Horsley hills and 12 kilometres away from the Madanapalle. Rishi Valley School is an Indian boarding school which is founded by the philosopher Jiddu Krishnamurti. It is located in the town of Madanapalle, which is Krishnamurti birthplace.

- : In this school campus spread over 350 acres; this school is most famous in the based of learning school in India with students from all over the world.

11. Talakona Waterfall
- : Talakona Waterfall is 120 kilometres away from Horsley hills and 89 kilometres away from the Chittoor. Talakona Waterfall is located in Sri Venkateswara National Park near nerabailu village. The trip duration of Horsley hills is half day to full day.

- : Best time to visit in Talakona Waterfall is September to January, His gorgeous waterfall falling deep into a valley from the 270 feet height. It is the highest waterfall in Andhra Pradesh.

Thank you for reading this article! Please share it and read more on 15 Interesting Places to Visit In Ooty Is Really Memorable in the next posts.